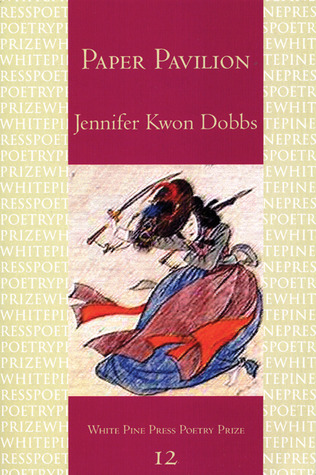 Winner of the 2007 White Pine Press Poetry Prize
Winner of the New England Poetry Club's Sheila Motton Book Award
Through the language of a post-Korean War diaspora, opera, fairy tales, and mythic landscapes, Jennifer Kwon Dobbs´s debut collection of poems steers its readers through "a shape of loss I cannot trace" to construct alternative histories that span cultural and geographic distances. Paper Pavilion blends English- and Korean-language poetic forms in search of "mater / the heart of matter / matter with a heart / maternus and everything bearing her trace, / bearing her variously in the grain of everything."
Sample poems appear in 5AM, The Cimarron Review, Crazyhorse, Cream City Review, From the Fishouse, MiPOesias, Poetry NZ, the Poetry Foundation's digital archive, and are anthologized in Echoes Upon Echoes and Language for a New Century.
Available at White Pine Press, Consortium Book Sales and Distribution, your favorite independent bookseller, and everywhere.
"Jennifer Kwon Dobbs writes a harrowing poem of very precise measurements or hidden operations in lyric wheelwork, but if you're thinking of clocks and time, please, rather think of space. Think of Wallace Stevens worrying about the traversing of the void, yes, folded and jeweled like time."
-Norman Dubie, author of The Quotations of Bone
"Dobbs is an astonishing poet. The poetry in Paper Pavilion is by turns lyric and incisive, operatic and sweeping . . . Dobbs has established herself as one of the most compelling and important poets of her generation."
-David St. John, author of The Last Troubador: New and Selected Poems
"I admire the versatility of this poet. Dobbs paints a wide canvas . . . Motifs and ideas travel borderless, meandering from the personal to the transnational, from the lush literary to the hip and speedy here and now."
-Marilyn Chin, author of Hard Love Province: Poems